In the event of an emergency, every second counts. That's why it's important to be prepared with the proper tools and equipment in case you need to evacuate your home or office. Evacuation epads are a vital part of any emergency plan.
An evac e pad is a device that helps a person to evacuate quickly and safely from a building during an emergency. It consists of an inflatable mattress that is used to slide down a stairwell or other exit and a shock-absorbent cover. The cover protects the person from impact and provides insulation against heat.
How to Use an Evacuation Epad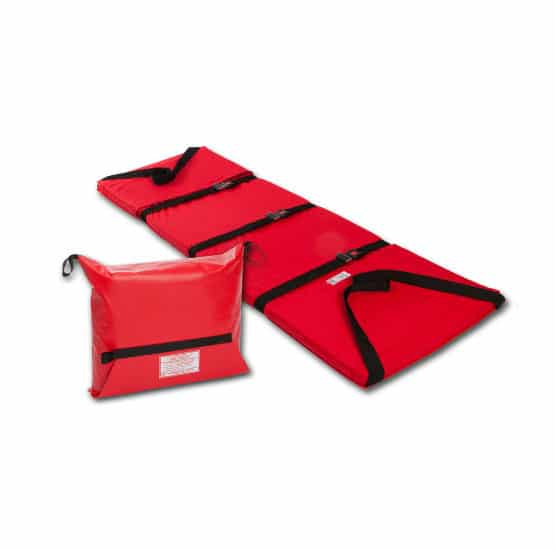 Using an evacuation epad is simple. Just place the pad over the desired exit point and secure it in place. Then, everyone can safely and easily slide down the pad to evacuate the building. It's important to practice using your evacuation epad before an emergency arises so that everyone knows how to use it properly in the event of an actual emergency.
Specifications
The evacuation epad is a device that is intended to be used in the event of an evacuation. It is packed in a bag that measures 64cm x 63cm x 17cm, and it unfolds to a size of 198cm x 68.6cm.
The padding on the epad is 3.8cm thick, and the entire device weighs 2.5kg. The evacuation epad has been safety tested to hold a load of 160kg and a safe working load of 20kg, allowing two people to use it simultaneously. The base of the epad is made from vinyl, and the top is made from nylon.
The Evac epad features two seat belt style webbing cross straps with plastic safety buckles and webbing pulling handles at each end. There is also a large foot pocket on the epad to prevent the person from sliding forwards when going downstairs. The evacuation epad can be mounted on a wall and comes with a wipe-clean storage bag.
What should you take with you during evacuation?
No one likes to think about evacuation, but it's important to be prepared for any emergency. If you live in an area that is prone to hurricanes, floods, or wildfires, you should have a plan in place in case you are ever ordered to evacuate. But what should you take with you? Here are some things to consider.
The Basics
First, start with the basics. This includes items like a first-aid kit, a flashlight, extra batteries, and sturdy shoes. You'll also want to make sure you have important documents like your driver's license, passport, and birth certificate in a waterproof and portable container. If you have time, grab some cash from the ATM as well. It's always better to err on the side of caution when it comes to packing an emergency evacuation kit.
Food and Water
Next, focus on packing food and water. Experts recommend packing at least three days' worth of non-perishable food and water for each person in your household. Make sure to pack foods that are high in protein and easy to eat on the go. And don't forget about your pets! Pack enough food and water for them as well.
Clothing and Bedding
Finally, make sure you have enough clothing and bedding to last three days. pack a few changes of clothes for each person in your household, including socks, underwear, and outerwear. And don't forget to pack a few blankets or sleeping bags as well. With these essentials packed and ready to go, you'll be prepared for anything.
Where to Buy Evac E Pad?
If you're interested in the evac epad, we highly recommend you to fill up the form on our contact us page to get a quote. Our team will be more than happy to assist you in finding the best possible price for the product. 
The evac e pad is a great way to keep everyone in your establishment and your family safe in an emergency. With its easy-to-use design, the evac e pad is perfect for anyone who wants to be prepared for the worst.
Final Thoughts
The evac e pad is a must-have for any family or business. With its easy-to-use design and high-quality construction, the evac e pad is sure to provide you with years of use and peace of mind. Order your evac e pad today!