What is an evacuation capepod? This is a question that many people are asking, especially during and after natural disasters. In this post, we will provide a comprehensive guide about evacuation S-capepods. We will discuss what it is, how it works, and why it's essential.
What Is An Evacuation Capepod?
An evacuation capepod is an equipment that is used to help people escape from dangerous or life-threatening situations. It is a small, portable, and lightweight capsule that can be quickly deployed in an emergency.
The capepod allows people to escape from a building or other premises without having to use stairs or an elevator. It can also be used in situations where smoke or toxic fumes are present.
How to use the evacuation capepod?
Have you ever been in a situation where you needed to evacuate but didn't have a way to get out? The evacuation capepod is a device that could help in those situations. It is large enough to fit a person inside, and it can be towed behind a vehicle. Here's how to use it:
The longer flap is placed over the body and attached to the shorter flap by using the strong hook and loop fasteners. Then the flap at the foot of the bed needs to be attached to the rest of the S-capepod.
By releasing the long towing strap, you can easily turn the patient on the bed. Moreover, in case of heavier patients, capepod features non-adjustable beds, or for patients with head or back injuries, you can use the towing strap at the head of the capepod.
Here's the actual video on how to use evacuation capepod:
S-capepod specifications:
Weight: 1.1kg
Packed size: 40 x 30 cm
Material: Trevira CS Polyester
Size with flaps open: 310 x260cm
Size under mattress: 210 x 84cm
Maximum carrying weight: 120-150kg
Head-end pulling strap length: 142cm
Foot-end pulling strap length: 190cm
How Secure is the S-CAPEPOD?
The S-CAPEPOD was designed with three core values in mind: speed, simplicity, and comfort. It is made to be quick and easy to set up, so you can get started right away, without any fuss. Plus, the S-CAPEPOD's ergonomic design ensures that you'll be comfortable while you're using it. So whether you're a first-time user or an experienced pro, the S-CAPEPOD will meet your needs.
Why is the Evacuation capepod essential?
S-capepod is an important piece of emergency equipment for ensuring the safety of people in the event of a fire or other emergency. It can be used to evacuate people from burning buildings or other dangerous situations, and it can also be used as a temporary shelter or resting place for people who are injured or who have lost their homes in an emergency.
It is made of sturdy material that can withstand exposure to heat and flames, and it is designed to provide protection for people who are fleeing from dangerous situations. Capepod is lightweight and easy to transport, so it can be taken with you wherever you go. It is also easy to set up, so you can use it quickly in an emergency.
In Hospitals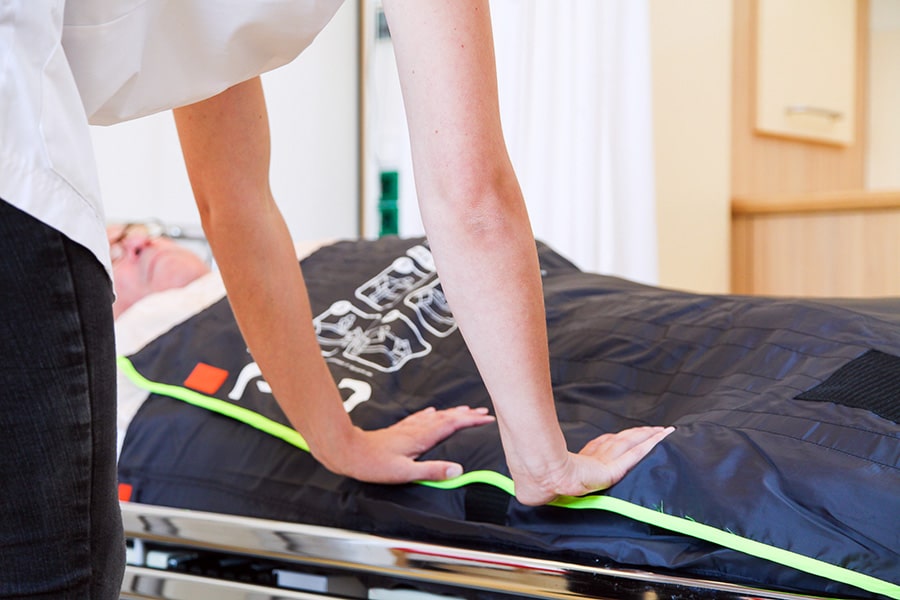 Given that one in five hospital patients falls each year and that the leading cause of hospital-acquired injuries is falling, it's not surprising that more and more hospitals are turning to S-capepod as a way to protect their patients.
S-capepod is specifically designed to transport immobile patients during an emergency situation safely, and they have a number of advantages over traditional stretchers and wheelchairs.
First and foremost, S-capepod is stable, which means that there is less likelihood of a patient falling during transport. They also have built-in straps and handles that allow caregivers to secure the patient during transport easily. And because they're lighter weight than traditional ambulance stretchers, they're easier to carry and maneuver, which is critical when time is of the essence.
In Nursing or care facilities
In addition, capepod can be used in a variety of settings, including hospitals, nursing homes, assisted living facilities, and even private homes. They're also becoming increasingly popular as a way to transport patients between different floors within a hospital or between different buildings on campus.
Nursing homes and other care facilities should have S-capepod on hand in case of an emergency. This equipment is designed to help caregivers quickly and easily evacuate patients from the premises. It is typically made out of a lightweight, easily movable material like foam or plastic, and they often come with straps that can be used to secure patients to the mattress.
S-capepod is an important tool for ensuring the safety of nursing home residents in the event of an emergency. They make it easy for caregivers to move large numbers of people quickly and efficiently, which can be critical in a crisis situation. Facilities that don't have evacuation mattresses on hand should consider investing in some soon – they could end up saving lives.
At Home
A home is not complete without S-capepod. It is a must-have for every family in case of an emergency.
Many people believe that this is a piece of equipment that is only necessary for homes with elders, but that is not the case. Everyone should have it in their home. Here are a few reasons why: 
S-capepod can help keep you safe during a fire or natural disaster. If you need to evacuate your home quickly, having this bedding item will make it much easier. 
They can also be used as a last resort when traditional beds just won't do. For example, if someone has allergies and can't sleep on traditional sheets and mattresses, they can use the S-capepod as their primary sleeping surface. 
Finally, they are affordable and easy to store away when not in use. So there's really no reason not to have one in your home!
In an emergency, every second counts, so it's important that everyone is prepared to take quick action.
Final Thought
The S-capepod is an innovative product that can help save lives in the event of a natural disaster. It is important to be prepared for any type of emergency, and this product could make all the difference in a crisis situation.
If you are interested in learning more about the evacuation capepod or purchasing one for your own use, you may reach out to us (844) 8472387 or fill up our contact form. Stay safe and be prepared!