During an emergency situation, evacuating infants can be a difficult and dangerous task. Carrying multiple babies simultaneously or transporting them through a smoke-filled room can put them in serious danger.
The Buscot Baby Safe Basket is designed to make infant evacuation easier and safer, providing peace of mind during an emergency. Let's take a look at some of the features of this versatile and lightweight device.
The Benefits of the Buscot Baby Safe Basket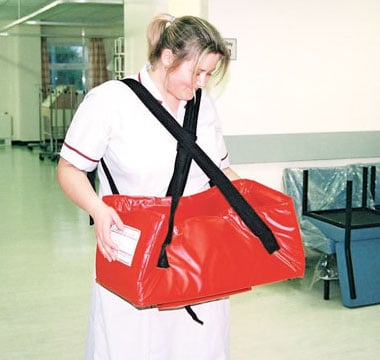 The Buscot Baby Safe Basket is designed for easy portability and features adjustable cross straps that can carry up to three babies at once. It also features a center Velcro strap for added security and safety, so you can rest assured your precious cargo will remain secure during evacuation. And since it's lightweight, you don't have to worry about it being too heavy when carrying multiple babies at once.
In addition to its portability, the Buscot Baby Safe Basket also provides a space for storing diapers, formulas, and even patient charts – making it perfect for any medical emergency involving infants. Plus, its easy-to-clean material ensures it remains hygienic after use – so you don't have to worry about any germs or bacteria remaining on the basket after use.
How You Can Use the Buscot Baby Safe Basket
The Buscot Baby Safe Basket is great for hospitals, birthing centers, ambulances, pediatric clinics, and emergency response teams who may need to transport fragile infants quickly in an emergency situation. It's also ideal for home use if you're expecting twins or triplets – giving you an easy way to evacuate your little ones quickly if needed.
No matter where you are or what kind of emergency you find yourself in, having the right equipment on hand can make all the difference when it comes to protecting your precious cargo!
How Much Does a Buscot Baby Safe Basket?
Investing in a Buscot Baby Safe Basket will make your life easier, ensuring you have the perfect equipment for your infants safely. Buscot Baby Safe Basket is tested with the utmost care in order to guarantee security for your children.
While the general price range for our safe baskets is relatively reasonable, several factors could influence exact pricing. Such factors could include the basket's size, material, and design.
Therefore, if you're interested in purchasing one of these highly-rated baby safety accessories, it would be wise to contact us with all details regarding your specific needs so that we may provide an accurate quote.
Conclusion:
No matter what type of emergency arises, having peace of mind knowing that your infant patients are safe is invaluable. With features like adjustable straps for added stability, reflective strips for visibility, and space for storing patient information — all backed by Buscot Baby Safe Basket's commitment to quality.
You can trust that your infants are getting the best protection available during evacuation procedures. So don't wait until disaster strikes; get your Buscot Babe Basket today!