WHY AEGIS [EE-JIS]?
Thermal Synchony is the phenomenon that makes your chest the optimal postpartum environment for your newborn. Your skin provides warmth and colonizes good bacteria that will help develop your baby's immune system.
Immediate and prolonged skin to skin contact have been clinically proven to provide many health benefits for both mother and baby.
The award-winning AEGIS Neonate Medical Wrap allows new mothers and newborns to safely bond skin to skin immediately after birth and throughout the neonate phase. X-Static Silver thread knitted throughout provides AEGIS with thermoregulating and antimicrobial properties.
AEGIS properly positions your newborn as recommended by the American Academy of Pediatrics for safe skin to skin bonding and will help reduce the risk of accidental infant falls.
You get one chance to welcome your baby into the world.
Welcome them with AEGIS.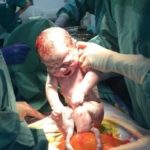 HOSPITAL BIRTH
AEGIS is intended to be used during vaginal or cesarean birth to safely bond skin-to-skin with your newborn during the "golden hour" immediately after birth, postpartum and beyond.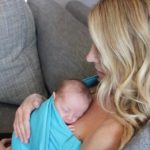 HOME
Welcome your newborn home with comforting skin-to-skin bonding that allows you the flexibility to bond with your baby and also return to your life routine.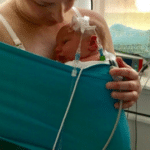 NICU
AEGIS can be used in the NICU for Kangaroo Care. X-Static® Silver Technology provides the AEGIS wrap with antimicrobial/anti-odor properties to protect the fabric from odor-causing bacteria.
MATERNITY IS THE ONLY TIME IN THE HOSPITAL WHEN A PATIENT IS EXPECTED TO CARE FOR ANOTHER PATIENT. AEGIS MAKES THIS ENDEAVOR SAFER FOR YOUR BABY AND MORE COMFORTABLE FOR YOU.
FEATURES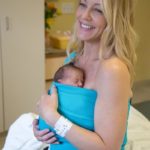 COMFORT
Seamless 4-way stretch.
Five unisex adjustable sizes.
Tube top style. The pure silver incorporated into the wrap has natural thermoregulation properties.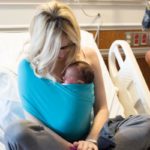 SKIN TO SKIN
Improves heart and lung function.
Stabilizes body temperature.
Initiates breastfeeding.
Regulates blood sugar.
Boosts maternal-child bonding.
Colonize good bacteria.
Reduces stress and crying.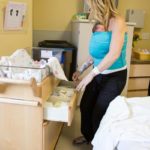 EASY MOBILITY
Move around with ease. AEGIS can be worn sitting, reclining, standing and walking.  Shoulder strap and compression panels for added support.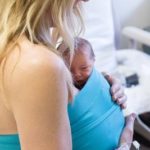 SAFE & SECURE
Safe hands-free skin-to-skin wrap suitable for newborns 4 to 14 pounds helps reduce the risk of accidental infant falls. Quick access side locking zipper with eye hooks on the top and bottom for added safety and size customization.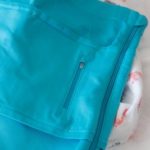 ANTIMICROBIAL
The X-Static® Silver Technology is knitted throughout providing AEGIS with protection from bacteria and fungus that can lead to odor and staining impacts to the fabric.
ERGONOMIC
Your newborn is positioned in a chest-to-chest froggy-legged position with face turned to one side in sniffing position, exposed, and visible as recommended by the American Academy of Pediatrics.